Live Online Course
Research

Method

to

Madness:

Introducing ResearchOps in Your Organization
Getting started with ResearchOps can be overwhelming. Secure one of 35 free spots to prepare for this journey. Live sessions will take place from 12/10 - 26/10.
---
What you will learn
This free course provides you with the skills needed to establish and develop ResearchOps in your organization. After completion, you will feel comfortable with the following topics:
Building an Ops process from the ground up
Organizing results in accessible repositories
Leading the recruitment process
Championing a more impactful research culture
---
Course schedule
Including three weekly 1h sessions, each consisting of a 40 min lecture and 20 min Q&A.
12th Oct'23, 7 pm CET
ResearchOps structure
The case for prioritizing ResearchOps

Getting started with your team

Tools you need and how best to use them

Developing a budget and making the most of it

Creating usable templates & resources
Introduction to ResearchOps
19th Oct'23, 7 pm CET
External recruitment
Determining the right participants

Where to find them

Setting the right expectations

Solving common pain points

Outsourcing and taking it to the next level
26th Oct'23, 7 pm CET
Internal repository
Organizing a repository from the beginning

Developing a taxonomy

Solving common pain points

Socializing research in the organization

ResearchOps for your career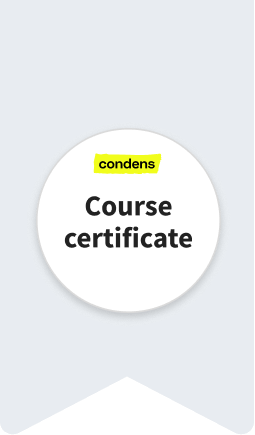 Get your certificate!
Each achievement should be acknowledged.
Earn an official certificate for your LinkedIn portfolio.
---
---
FAQ
You can find answers to the most common questions below.
If there's anything unclear to you, reach out to us at hello@condens.io.
Who is this online course for?
How do I get a spot in this course?
I cannot join all the sessions. Can I still apply for the course?
Do I get a certificate after the course completion?
---